An extended reach ADA pool lift like Global Lift's SXR model is engineered to adapt to today's changing pool designs. Residential and commercial swimming pools were once designed on standard rectangular or oval shapes with straightforward entry into the water at any point. Today's more complex designs, however, now incorporate features like extra wide gutters and user perks such as benches that complicate installation of a pool lift.

Providing full ADA compliance as well as the flexibility needed to adapt to pools that impose greater clearance requirements, the Superior Series SXR Extended Reach Lift can be installed even where hindrances like wide gutters and benches are built-in to the design. This capacity allows extension of up to 20 inches to accommodate most obstructions.

Here are more highlights of the SXR Extended Reach Pool Lift:

Laboratory proven to comply with latest ADA standards.
Corrosion-resistant stainless steel fabrication and powder coat finish treated with UV protectants. Structure is guaranteed for five years.
350-pound lift capability and chair fitted with arm rests, foot rest and safety seat belt.
Battery-powered 24-volt DC lift motor operated by user friendly controls.
Battery charging station is included.
Adaptable to both swimming pools and spas.
Easy shipping and delivery in UPS packaging.

The 2010 ADA Act, which took effect in March 2011, substantially expands and updates existing standards that facilitate access to public facilities such as pools and spas. ADA regulations apply to all pools that fall under Title II or Title III classification.

Title II rules apply to municipal pools, pools at educational facilities, government installations and other public sector scenarios.

Title III rules apply to privately-owned pools utilized by the general public, such as pools at motels, hotels, resorts and other lodgings, as well as any other accommodations open to the public.

The rules adopted in March 2011 require full compliance with ADA standards by March 15, 2013.

Standard Features

ADA Compliant Pool Lift
Stainless Steel Construction
Powder Coat Finish
Lift Capacity 350 lbs
Battery Powered 24 volt system
User Friendly controls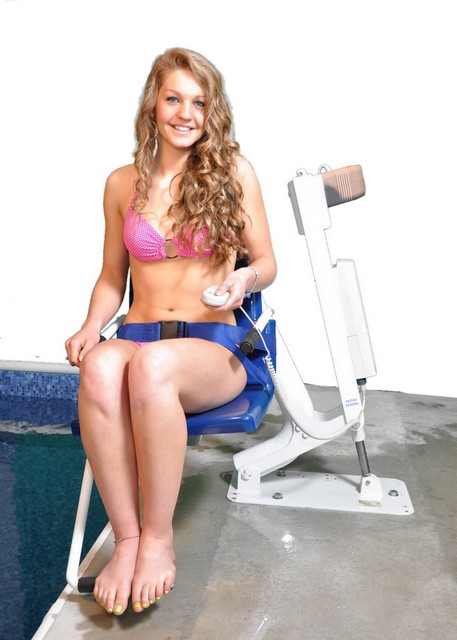 5-year Structural Warranty
Arm Rests
Foot Rest
Safety Seat Belt
UPS Packaging for easy shipping
Used for spas and pools
UV Resistant
Right Seat Application
Includes Battery Charging Station
Sleeve Anchor System (Optional)
Key Lock Out System

The new Superior Series SXR Extended Reach Lift is specifically designed for spas and pools requiring additional reach and is capable of clearing benches or gutters up to 20" wide.