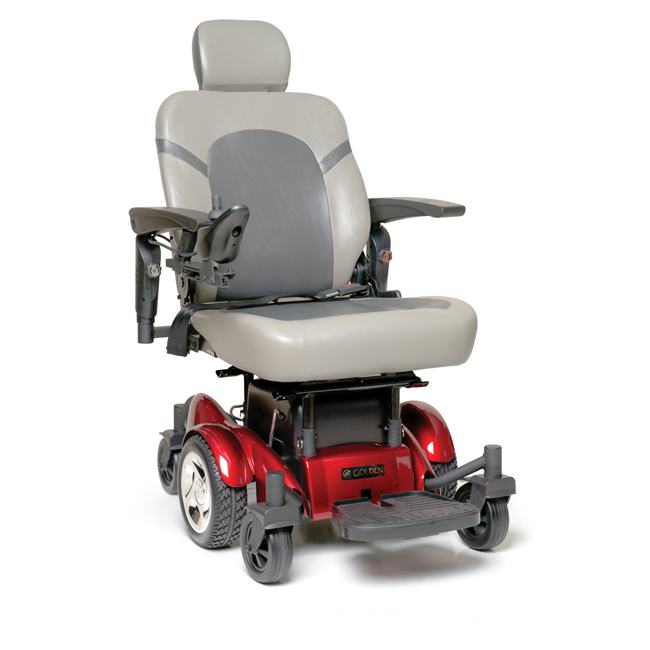 by Golden Technologies(Model No. GP620)
Features
Choose from a 20", 22" or 24" seat width at no extra cost
12 mile driving range at maximum weight capacity
Seat is height and angle adjustable and slides forward and back
Key Specs
Battery Charge Distance: 12.00 Miles

Weight Capacity: 450 Lbs.
Weight: 209 Lbs.
Overview of the Compass HD

Golden Techís Compass HD provides durability and maneuverability at an affordable price. With strength in mind, this power chair is built with a 450 pound weight capacity and a powerful battery to take you up to 12 miles on a full charge. You can choose from four different frame color options, height, angle and length adjustable footrests, adjustable Captainís seat and many power chair accessories to ensure this chair has everything you want and need. The Compass HD is a perfect choice for users needing a little extra strength while still maintaining style and comfort.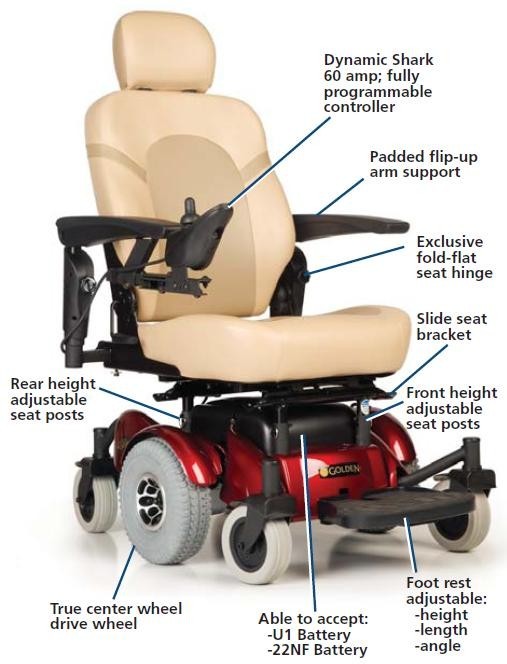 What Makes This Different
The Compass HD is available with different seating options to ensure that every user is comfortable and secure. Choose the standard Captainís, optional ProFlex or optional Van/Pan Seat, for a seating style that fits their needs without compromising comfort. The standard Captain's seat features a high back and headrest, the ProFlex seat features an adjustable angle back and push handles. Both the ProFlex and Van/Pan seat do not have seat or back cushions so that the user can have custom support, with seat and back cushions made just for their needs.

Why We Like It
The Compass HD is made for a heavier user but doesn't sacrifice style and function. It has a 20" turning radius, thanks to the center-wheel drive wheels, making it very useful in smaller spaces.

What You Need to Know When Ordering
The Golden Tech Compass HD comes standard with a one-year in-home service contract. This service contract pays for a technician to come to your home in the event of an issue and he will assess and later repair your chair, free of charge. For added peace of mind, consider upgrading to the two- or three-year service plan. Also, the Compass HD is delivered via a freight company by a Curbside delivery service. The freight company will call and schedule a delivery time and bring the box to your home, but they will not bring it into your home. And, if you have any stairs leading to your door, they will leave the box at the base of the stairs. If you need additional service, consider the White Glove delivery option. This service will deliver your chair to a trained agent in your area and your chair will be unpacked and inspected for damage. The agent will then call to schedule a delivery time and bring the chair to you, in your home. Though our White Glove Delivery option includes the set-up of your power chair, comfort adjustments, like foot rest height, will need to be done by the caregiver or user.
Users may also want to take a look at the Pride Jazzy-Sport-2.
Specifications for the Compass HD
Top Speed:
4.00 mph
Turning Radius:
20.00"
Ground Clearance:
3.50"
Heaviest Piece:
101 lbs.
Maximum Incline Rating:
6 ļ
Battery Charge Distance:
12.00 miles
Drive Type:
Mid Wheel Drive
Foldable:
Yes
Disassembles:
No
Armrest Options:
Height Adjustable


Flip-Back
Legrest Options:
Footplate


Elevating Legrests


Swing-Away Legrests
Seat Options:
Reclining Back


Captain's Seat
Seat Widths:
20"
22"
24"
Seat Depths:
20"
Back Height:
21"
23"
Maximum Seat to Floor Height:
23"
Overall Width:
25.00"
Overall Length:
40"
Joystick Options:
Right


Swing-Away
Adjustable Angle Footplates:
Yes
Dampening Adjustment:
No
Frame Type:
Heavy-duty
Batteries:
2-NF22
Batteries Included:
Yes
Battery Charger Type:
Off Board
Drive Wheel Size:
10"
Caster Size:
6"
Rear Caster Size:
6"
Base Weight:
101.00 lbs.
Standard Seat Weight:
51.00 lbs.
Battery Pack Weight:
74.00 lbs.
Weight Without Batteries:
155.00 lbs.
Controller Type:
Dynamic 75 Amp Remote
Suspension:
No
Tire Type:
Foam Filled
Expedited Shipping Available:
No
Information Sheet:
Compass-HD-SellSheet.pdf
Owners Manual:
Owners Manual.pdf
Compass HD Video:
Golden Compass.mp4
Approximate Shipping Dimensions and Weights
One Full Year In Home Service Limited Warranty.

Your new wheelchair comes with a full One Year In Home Service Warranty. Stop worrying about who would repair your wheelchair or how you would get your wheelchair to them. This warranty has you covered! We will send a trained professional repair technician directly to your home in the event your wheelchair should need repair. We cover the entire United States. The map below indicates the location of our service affiliates.





OPTIONAL SCOOTER COACH

The Patented Locking Scooter Coach is now available for the Golden Compass HD. The Coach is a water proof trailer that allows you ten times the capacity to bring things along with you that you would normally leave behind as ell as a piece of mind knowing your items are under lock and key. The Scooter Coach not only can serve a safe locking cargo, it can also serve as a ice cooler to keep food and drinks cold as it is completely water tight and water proof with a weight capacity of 500 pounds.

Personalize your new wheelchair. Its Free & Easy, Simply select letter of font style below you like and enter it in the order form along with the name or text you would like to use to personalize your new wheelchair.

A

B

C
D
E
F
G
H
I
J
Golden Compass HD Power Wheelchair
Compass Hd Power Wheelchair By Golden Technologies