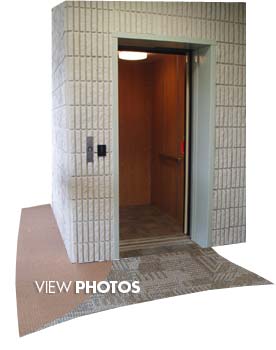 Liftavators are designed to provide limited use/limited application (LU/LA) elevator service, up to 25 feet, in new and existing buildings where space and economy are prime considerations.

Built to ASME/ANSI A17.1-2000 Part 5, Section 5.2., Liftavators are built to the same rigid specifications required of full-sized commercial elevators. This ensures that they can meet the needs of the most demanding applications.

Liftavators are installed in completely enclosed fire-rated hoistways to meet applicable building codes. Doors and gates are fully interlocked for maximum safety. Built with components of proven design and manufacture, Liftavators are safe, reliable and easily maintained.

Where space permits, manual or power operated sliding doors, in lieu of the gate, are an option. A recent addition to the Liftavator standard line is a deluxe
casket lift for churches and funeral parlors.

Power Supply
220V, 30 AMP. Single Phase, 60 HZ
---
Drive Type
Direct acting hydraulic cylinder
---
Controls
Automatic or key controls
---
Rated Load
1400 Lb. Commercial, others on request
---
Platform
Up to 18 square feet, 11 GA steel, others on request
---
Car paneling
1/2" melamine or acrylic panels multiple color choices and custom finishes available
---
Travel
Up to 25 Ft. at 30 FPM, up to 50' with variance
---
Miscellaneous
Compact, quiet, commercial hydraulic power unit, pump motor, and reservoir in one package

Standard Features
Automatic or key control
Formica® brand melamine wall panels
Commercial fixtures/controls
Stainless steel handrail
Commercial carpet flooring
Emergency stop button
Illuminated push buttons
Alarm bell
Emergency light package
Non-interference timer
Insruction certificate frame
Over speed check valve
Pump timer
Power-off lowering/Battery back-up system
Time delayed door closer
UL Listed "B" Label, 1 1/2" hour fire-rated
Self-leveling
EZ Entry™ doors to meet building codes
Solid panel aluminum, stainless,
or wood car gates

Available Features
Factory Installation
Priority (fast trac) scheduling
Power operated hoistway swing doors with battery back-up
Executive package - incl. bronze gate, fixtures, trim and sill
Power operated sliding car and hoistway doors
Vandal proof fiberglass or stainless paneling
Hi-speed valve and power unit

Compact Hydraulic Power Unit
The Liftavator holeless hydraulic direct-coupled drive system allows minimum pit depths and does not require under-ground piping, chains, cables or pulleys.

To keep costs down, standard models feature manually operated EZ Entry™; swing doors of our own design, with a panel gate on the car.


1) Finished hoistway plumb within ˝" from top to bottom, and conforming to the dimensions indicated on the layout drawings provided. All walls and side members must be square and extend from pit floor to the ceiling of the shaft. Inside surface of the hoistway must be flush. Interior of hoistway and doors should be finished prior to the installation of the lift. Hoistway must be constructed in accordance with ASME A18.1 and all state and local building code requirements.

2) Adequate supports shall be provided for fastening the lift as indicated on the layout drawings. Supports must withstand rail forces indicated. The elevator contractor is not responsible for the structural design of the building and its ability to support the elevator loads and/or reactions.

3) Where wood frame construction is used, tripled 2" x 6" on each side of inserts, spaced as indicated on the layout drawings, and extending the full height of the hoistway are recommended. Please consult the project architect for design specs.

4) For masonry walls, the wall must be designed to support the loadings of the lift.

5) Total travel distance from finished bottom floor to finished top floor must be held within 1" of that shown on the layout drawings overhead clearance, (top floor to underside of hoistway ceiling or obstruction) to be maintained per the layout drawings. If any of the shaftway dimensions cannot be achieved, contact the factory for alternate arrangements.

6) Overhead clearance: (top floor to underside of hoistway ceiling or obstruction) to be maintained per the layout drawings. If any of the shaftway dimensions cannot be achieved, contact the factory for alternate arrangements.

7) A poured pit conforming to the dimensions indicated on the layout drawings must be provided. The pit must be designed for the impact load indicated and must be dry and level from wall to wall.

8) A sump pump and sump pump hole with cover is recommended in the pit area where water seepage is encountered . If a sump pump is furnished, coordinate location with the elevator contractor.

9) All screens, railings, steps and ladders as required for a legal hositway.

10) Barricades outside all hoistway openings for protection shall be provided and installed by the general contractors.

11) 3'0" x 6'8" swing doors, with 1 1/2 hour fire rating, with stainless hall stations. To be provided as standard equipment and installed by general contractor, door closers or spring loaded hinges are included.

12) Clearance between hoistway door and sill must not exceed 3", nor 5" between hoistway door and car gate per ASME A17.1.

13) All wall patching, painting, and grouting by others.

14) The main disconnect shall be located within sight of the lift on the first level, outside the lift shaft.

15) A 120V, single phase, (20AMP @ 1HP) service, with neutral, to a lockable safety disconnect switch fused with time delay fuses (15 AMP) shall be furnished in accordance with N.E.C. A normally open electrical interlock contact is required in the switch for battery isolation.
Horsepower source for single phase heavy-duty switches (or equal): square 'D' CAT. #H22IN, electric interlock EIK-031. ITE CAT. #SN-321, electrical interlock #SC-3. Cutler hammer CAT. #DH221NGK, electric interlock #DS200EK1).

LuLa_Brochure.pdf

LuLa_Specs.pdf