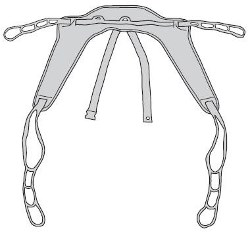 Overview for Divided Leg Floor Lift Toileting Sling

Drive Floor Lift Toileting Sling is made from solid nylon fabric that's not only high-quality but is also durable and strong. The patient lift sling has a weight capacity of 450 pounds and provides a safe and accident-free toileting experience to users. It is helpful in transferring patients with mobility problems from one point to another. The lift sling is also effective in preventing the risk of back injury among care providers.

Drive 13262T features 4 sling points and comes with 4 or 6 cradle points. The floor lift sling requires no straps or chains when utilized. It is hassle-free to use and doesn't provide any discomfort to patients. Drive 13262T is protected with a lifetime limited warranty.
Features for Drive Divided Leg Floor Lift Sling
Divided leg floor lift sling
Solid nylon fabric
4 sling points
Comes with 4 or 6 cradle points
Requires no straps or chains
Dimensions: 33" x 35"
450-pound weight capacity
Available in four size options
HCPCS* A4565
Lifetime limited warranty
* This information is not intended to be, nor should it be considered billing or legal advice. Providers are responsible for determining the appropriate billing codes when submitting claims to Medicare Program and should consult an attorney or other advisor to discuss specific situations in further detail.