Jeanne M Isacco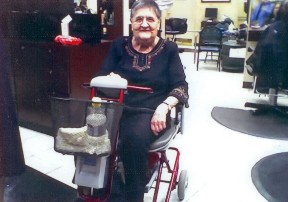 Dear Discover Your Mobility,
I have now had my Lexis Light Scooter for a few months and I am extremely happy to provide you with a testimonial on this product. For a number of years I have had back muscle problems, which cause me considerable pain when I have to walk for extended periods of time. In addition I have had balance difficulties, which have occasionally resulted in injuries and embarrassment caused by tripping and falling. I am able to walk, but because of the pain extended walking causes and from fear of falling I have had to avoid many personal and social activities, which my partner and I have always loved to engage in. These activities included art exhibits, museums, flea markets, craft shows, and other fun things that require extended walking, standing and negotiating our way through crowds. Now that I have my Lexis Light, we can do any and all of these enjoyable activities without stress. The two of us can easily fold up the scooter and put it in the trunk of the car, and then take it out and unfold it quickly at our destination. I especially appreciate the sturdy balanced design of the center post seat. The double front tires and relatively wide body also provide extra stability, and the seat is secure and comfortable. Steering is easy and the battery is much lighter than those of normal scooters this size. The Lexis Light I purchased was a refurbished model, but I couldn't tell the difference from a new one, and it cost me considerably less. I have recommended this product to my family friends and even strangers.
Thanks again for making a great scooter at a great price!!
Sincerely yours,
Jeanne M Isacco