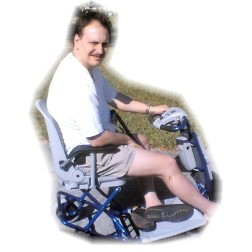 Ben Moranville
Dear Discover Your Mobility,

When I received your letter about Lexis Light Testimonials I just had to respond. I purchased this particular model after months of researching different types of travel scooters. You see I am disabled and cannot lift heavy objects, thus leaving all of the lifting to my wife, not to say that she is not strong… but I do not want her to have to do any heavy lifting. Well when we found the Lexis Light scooter our hearts started beating very fast. We were in sheer delight over a scooter that looked so sleek and was also easy to lift, set up, and store. This product is the best item out there, and believe me I have done my research. It is not really long in length but still allows me to stretch out my legs due to my disability and the fact that I am 6 feet tall. I also want you to know that it is an important factor in our decision making was the Lexis Light scooter can be taken on an airplane and is approved by the FAA, I can actually wheel right down to the door of the plane, get off, fold up the scooter, and then they airline personnel will but it in storage until the plane lands where they have it waiting at the door for me. We also like to take cruises and needed a scooter that was not only portable, but also easy to maneuver around the cabin and deck of the ship, as well as the narrow hallways.

On a lighter note I wanted to add that when I needed a question answered I was able to contact your company and everyone who I came in contact through these phone calls was courteous, friendly and informative. Not once did I ever think I was making a mistake with purchasing this scooter from this company. After placing my order we received the scooter in a record of less than a week. Even after a couple of weeks Planet Mobility called me to ask me if my scooter was working out for my needs and to make sure I was satisfied.

To everyone out there who would consider the Lexis Light scooter I highly recommend it to everyone. It is comfortable, looks great, and is easy to handle too. I love it!!!!
Enclosed you will also find pictures on my scooter to show you how much I enjoy it.

Thank You So Much,
Ben Moranville

1522 E Hawthorne Cir
Hollywood FL 33021