Lyndall Johnson Testimonial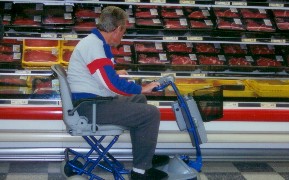 To Whom It May Concern:

Since I purchased my Lexis Light scooter last year, I have enjoyed it thoroughly. It is very maneuverable in tight place and also very fast ( if need be ).
I shop go to the movies, and get around my home with the Lexis. We live in a manufactured house and the doorways are narrower than a conventional home, and I still can easily maneuver it around my home with ease, and there isnít a room that I canít enter.
It is also very light and breaks down quickly into 2 sections and the battery. I have five fractures in my lower spine and I am still able to easily load and unload this scooter into the trunk of a car or the bed of a truck.
I want to thank you so much for giving me back my independence and for giving my wife more free time because I now can help out with errands and go to the doctors by my self.
Thank You,
Lyndall Johnson