Breeze C3 Mobility scooter
The new mid size 3 wheel mobility scooter - Breeze C3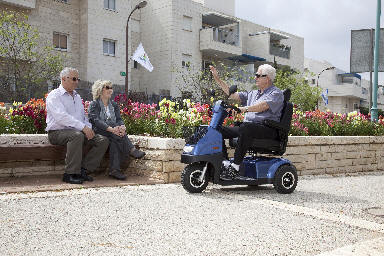 The new and most advanced mobility scooter of its kind, Breeze C3 offers advanced technology, stylish design, and absolute reliability. As the ultimate 3 wheel mobility scooter for urban environments, Breeze C3 enables comfortable maneuverability in shopping centers, narrow passageways, or paved and uneven open areas.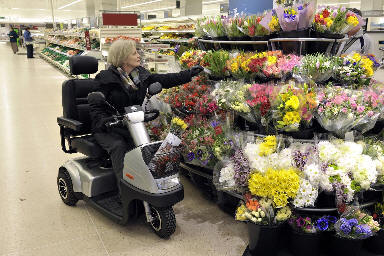 Highly reliable in all driving conditions
Fully adjustable orthopedic seat swivels 360° for optimal comfort
Easy to drive and simple to maintain
Full suspension and shock absorbers ensure a comfortable and smooth drive
Adjustable handlebars for enhanced driving pleasure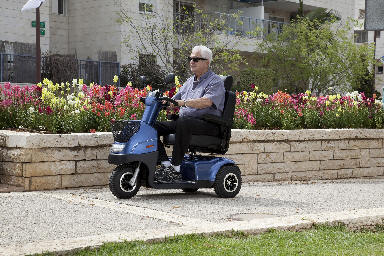 Although without question Afikim has been producing the highest quality mobility scooters recently their has been a FDA recall on 69 units manufactured. This should not discourage consumers from purchasing a Afikim product as the quality remains the highest in the industry.
View All Afikim Mobility Scooters Here.!
Afikim Electric Vehicles Corrects Problem With 69 of Breeze C Scooter
FOR IMMEDIATE RELEASE - September 27, 2013 - On September 27, 2013, Afikim Electric Vehicles initiated a nationwide recall of 69 Breeze C Scooters. The Breeze C Scooter may become unresponsive during operation due to an electrical contact which may fault due to extensive wear, which potentially could result in the driver not being able to stop the scooter during operation except by turning off the ignition key.
There is a Correction in process which has been reported to the FDA concerning this.
Consumers who have Breeze C Scooters should contact the manufacturer at 1-800-809-3010.
Recalled Breeze C Scooters were manufactured from 07/02/2010 to 07/24/2012 and distributed from 09/15/2010 to 07/25/2013.
The following styles have been recalled:
Breeze C, 3 Wheel and 4 Wheel Scooters
Serial Numbers:
10390024
11390060
11490426
12390107
12490181
10390025
11390061
11490433
12390117
12490182
10390029
11390069
11490435
12390120
12490183
10390030
11390074
11490445
12490169
12490184
10390034
11390095
12390096
12490170
12490185
10390037
11390101
12390097
12490172
12490186
10490100
11490111
12390098
12490173
12490187
10490108
11490147
12390099
12490174
12490188
10490111
11490176
12390101
12490175
12490189
10490113
11490189
12390102
12490176
12490190
10490119
11490277
12390103
12490177
12490191
10490121
11490304
12390104
12490178
12490192
10490124
11490305
12390105
12490179
12490193
11390058
11490425
12390106
12490180

Total Number Recalled is 69.
Products can be identified by their color; the recalled products are either metallic blue or metallic silver. The products have two rear wheels and have either one or two wheels in the front. The scooters have an adjustable swivel seat and a front storage basket; some scooters may be fitted with an optional larger rear basket.

Afikim Electric Vehicles voluntarily recalled Breeze C Scooters after becoming aware of a potential for malfunction. Afikim Electric Vehicles has notified the FDA of this action.
During product testing we became aware of a potential scenario where an internal potentiometer wiper could become disconnected due to extensive wear. If this were to occur the device could continue to drive forward at a slow speed of approximately 2-4 mph and the only way to stop the device would be by turning off the main key switch. The number of scooters affected is 69; no injuries have been reported to date.

Afikim Electric Vehicles is notifying its distributors and customers by telephone and/or email and is arranging for correction of all recalled Breeze C Scooters.

Afikim Electric Vehicles sold Breeze C Scooters to distributors and directly to users in the US. The majority of the scooters were sold in California, other states where scooters were sold were Florida, Georgia, Illinois, Maine, Maryland, Massachusetts, Michigan, Minnesota, New Jersey, New York, Ohio, Oklahoma, Pennsylvania, Texas, Virginia, and Wisconsin.

Consumers with questions may contact the company via telephone Monday through Friday at 1-800-809-3010 between the hours of 9AM and 5PM (EST). Consumers may also contact the company via e-mail at dov@afiscooters.com.
Adverse reactions or quality problems experienced with the use of this product may be reported to the FDA.
Discover Your Mobility has found Afikim to address this issue with concern and very effective speed and continue to support Afikim as one of the highest quality manufactures in the world.
View All Afikim Mobility Scooters Here.!