Installation Instructions
What makes the Burr Mobile-Lift different? The Mobile-Lift is a multi-purpose scooter lift that offers a good mix of features and easy-to-use performance.

What are the Burr Mobile-Lift's strong points? Folds up when not in use, safety belt secures your scooter, D.O.T.-approve center brake light, all-aluminum platform.

What else should I know about the Burr Mobile-Lift? All Mobile-Lift series require the use of Class III hitch which may not be available on smaller vehicles.

Product Specs

Lift Type: Scooter or Power Chair
Max Lifting Capacity: 300 lb
Power Source: Vehicle Battery
Hitch Class: IIIMax
Hitch Height: 15"Min
Hitch Height: 13"Lift
Weight: 62 lb
Platform Size: 40" L x 26" W
Folds Up For Parking: Yes
Fold Up Operation: Manual
Ramp Size: N/A
Handicap Scooter Lift & Transporter - Simply drive the scooter on to the platform, attach the safety harness and push the switch to raise the scooter. Installation involves bolting on to Class III hitch receivers and supplying 12-volts DC. Outside models lift loads to 300 lbs.

The Burr Mobile-Lift Outside Model offers you the ultimate in quiet convenience and independence. It requires no disassembly of your 3 or 4 wheel electric scooter or wheelchair ... simply drive it on, attach the safety harness and push the switch. The Mobile-Lift raises and locks any scooter in place on the back of your car in just 60 seconds so you can be on your way!


A quiet electric motor lowers the platform in seconds. Drive your scooter on and lock brake, then push the switch to raise and
stop halfway.


Attach the adjustable safety belts. Finish raising the Mobile-Lift by pushing the switch again, and it automatically locks into place. Then just
drive away!


The unit folds down for access to the car's trunk, or the rear of vans, station wagons, SUVs or
pick-up trucks.


The Mobile-Lift Outside Model folds up out of the way when not in use. Just unfasten the lock-up strap and lower platform when ready to use.
Features:
~ 300 lbs. lift capacity
~ 18" or 24" (two models) vertical lift
~ 26" x 45" or 30" x 50" ("Big Tray") all-aluminum platform
~ Two lift "nite-lites"
~ 12-volt motor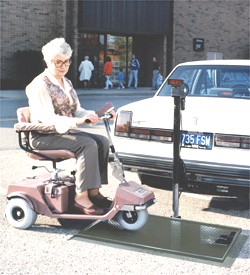 ~ All steel hardened gears, permanently lubricated
~ Emergency crank through handle (in case battery fails)
~ D.O.T approved brake light
~ Corrosion resistant powder black coat finish
~ Bolts onto a class III receiver hitch
~ Only weighs 62 lbs.
~ No maintenance
~ Simple wiring and installation instructions
~ 1 year factory warranty
P/N: 19675 Regular Mobile-Lift
P/N: 24770 "Big Tray" Mobile-Lift