Portable Ramps
Roll-A-Ramp® is the most portable and versatile ramp available. Ramps come in four widths and can be built to any length needed. This is an excellent alternative to expensive chair lifts or permanent wooden ramps. Also great for anyone looking for a superior quality ramp for ANY use.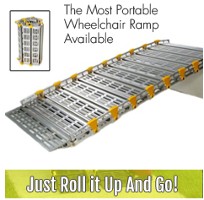 Unique Features to the Roll-A-Ramp® Portable Ramps:
Lightweight & Strong - Aircraft Aluminum Supports up to 1,000 pounds or 2,000 pounds for the 12" twin track ramps!
Portable - Roll it up and take it with you
Warranty - Full 10-Year Warranty
Versatile - Any size, any time
Available Widths:
12" - For very wide chairs or heavy cargo (12" sold as pairs. Also called Twin Track).
26" - Suitable for mini-van use and narrower chairs
30" - Standard size for most applications
36" - For public applications or very large chairs
Unique Design - Patented link construction means you will never have the wrong size ramp; simply add additional links to change length with the simple tools provided with your ramp.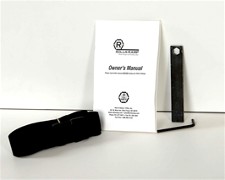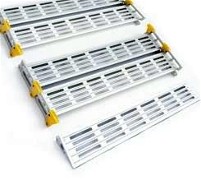 NEVER PERMANENT - No matter how the system is configured; short portable ramp to extensive modular ramp to vehicle mounted application your Roll-A-Ramp® ALWAYS remains portable. If your situation changes? No problem for Roll-A-Ramp®. Change it to meet your needs. Unlike permanent wooden ramps, you do not need a building permit to put a Roll-A-Ramp® at your home.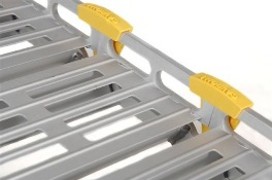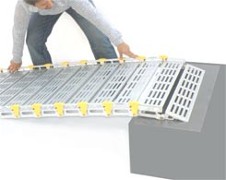 Versatile - One Portable Ramp - Many Uses. Use the same portable ramp to go from home to friends to vehicle with ease. No need to purchase multiple ramps.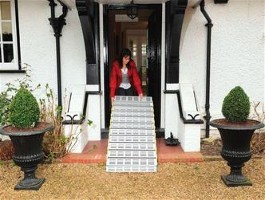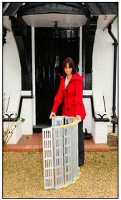 Uses:
• Homes/Apartments
• Vans
• Trucks
• Boats
• Airplanes
• Churches
• Schools
• Restaurants
• Hotels
• Appointments
Aluminum Ramp Handrails are also available for added security.

Traction and Safety in any weather
Each ramp includes angled approach plates on each end for smooth entry and exit
12" Twin Track Ramps and single ramps (26"/30"/36") can be custom built to the length you need.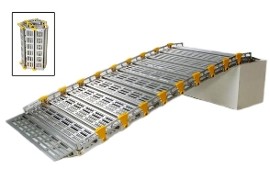 FREE SHIPPING
ITEM #
DESCRIPTION
12" WIDE TWIN TRACK RAMPS SALE PRICE
A11202A19
3ft L x 12"W
A11203A19
4ft L x 12"W
A11204A19
5ft L x 12"W
A11205A19
6ft L x 12"W
A11206A19
7ft L x 12"W
A11207A19
8ft L x 12"W
A11208A19
9ft L x 12"W
A11209A19
10ft L x 12"W
A11210A19
11ft L x 12"W
A11211A19
12ft L x 12"W
A11212A19
13ft L x 12"W
A11213A19
14ft L x 12"W
A11214A19
15ft L x 12"W
A11215A19
16ft L x 12"W
A11216A19
17ft L x 12"W
A11217A19
18ft L x 12"W
A11218A19
19ft L x 12"W
A11219A19
20ft L x 12"W
ITEM #
DESCRIPTION
26" WIDE SINGLE TRACK SALE PRICE
A12602A19
3ft L x 26"W
A12603A19
4ft L x 26"W
A12604A19
5ft L x 26"W
A12605A19
6ft L x 26"W
A12606A19
7ft L x 26"W
A12607A19
8ft L x 26"W
A12608A19
9ft L x 26"W
A12609A19
10ft L x 26"W
A12610A19
11ft L x 26"W
A12611A19
12ft L x 26"W
A12612A19
13ft L x 26"W
A12613A19
14ft L x 26"W
A12614A19
15ft L x 26"W
A12615A19
16ft L x 26"W
A12616A19
17ft L x 26"W
A12617A19
18ft L x 26"W
A12618A19
19ft L x 26"W
A12619A19
20ft L x 26"W
ITEM #
DESCRIPTION
30" WIDE SINGLE TRACK SALE PRICE
A13002A19
3ft L x 30"W
A13003A19
4ft L x 30"W
A13004A19
5ft L x 30"W
A13005A19
6ft L x 30"W
A13006A19
7ft L x 30"W
A13007A19
8ft L x 30"W
A13008A19
9ft L x 30"W
A13009A19
10ft L x 30"W
A13010A19
11ft L x 30"W
A13011A19
12ft L x 30"W
A13012A19
13ft L x 30"W
A13013A19
14ft L x 30"W
A13014A19
15ft L x 30"W
A13015A19
16ft L x 30"W
A13016A19
17ft L x 30"W
A13017A19
18ft L x 30"W
A13018A19
19ft L x 30"W
A13019A19
20ft L x 30"W
ITEM #
DESCRIPTION
36" WIDE SINGLE TRACK SALE PRICE
A13602A19
3ft L x 36"W
A13603A19
4ft L x 36"W
A13604A19
5ft L x 36"W
A13605A19
6ft L x 36"W
A13606A19
7ft L x 36"W
A13607A19
8ft L x 36"W
A13608A19
9ft L x 36"W
A13609A19
10ft L x 36"W
A13610A19
11ft L x 36"W
A13611A19
12ft L x 36"W
A13612A19
13ft L x 36"W
A13613A19
14ft L x 36"W
A13614A19
15ft L x 36"W
A13615A19
16ft L x 36"W
A13616A19
17ft L x 36"W
A13617A19
18ft L x 36"W
A13618A19
19ft L x 36"W
A13619A19
20ft L x 36"W