Platforms
Roll-A-Ramp platforms are customized especially for our ramps. This is a great option for longer ramps or if you need your ramp to go in more than one direction. The legs are made to the length you need and the feet allow the height to be adjusted within a 3" range. Platforms come with handrails and segmount brackets so the top approach plate of the ramp can be easily inserted.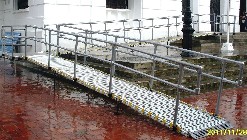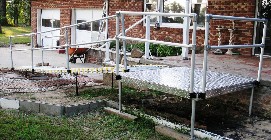 Platform Kit includes everything you need to quickly set up: Platform, Handrails, & Legs. All brackets for legs and ramp are already installed meaning there are only a few simple steps to get it set up. Easily taken down for temporary use. May be used as a permanent solution, or easily remove the Handrails and Platform Legs for use anywhere! This does not include the ramp.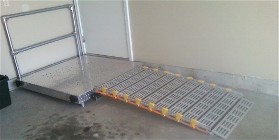 Available in two convenient sizes:
48" by 48"
and
60" by 60"