DESCRIPTION
NEW for 2014! Legend Series Pool Lift with new construction 4 point anchor.

Manufactured with the same attention to detail as all of the original Global Lift Series Lifts.

The Legend series lift is available with a Drop-In anchor or new construction Four Point Anchor System. It also is available with the optional drop in anchor system, both are easily installed.

The L-325 lift comes standard with the anti-pinch linkage system. Patent Pending. This system holds the seat in a level position with an external linkage system, that virtually eliminates pinch points.

The Legend Series lift will detach from the pool deck in a matter of minutes, and reattach to the deck just as quickly. This unit ships UPS which passes the cost savings on to the purchaser.

Like the series of lifts before it, the Global Lift Corporation Legend Series units are sleek and possesses a clean and contemporary design.

STANDARD FEATURES

• ADA Compliant Lift
• Stainless Steel Construction
• Powder coat finish
• Lift Capacity 325 lbs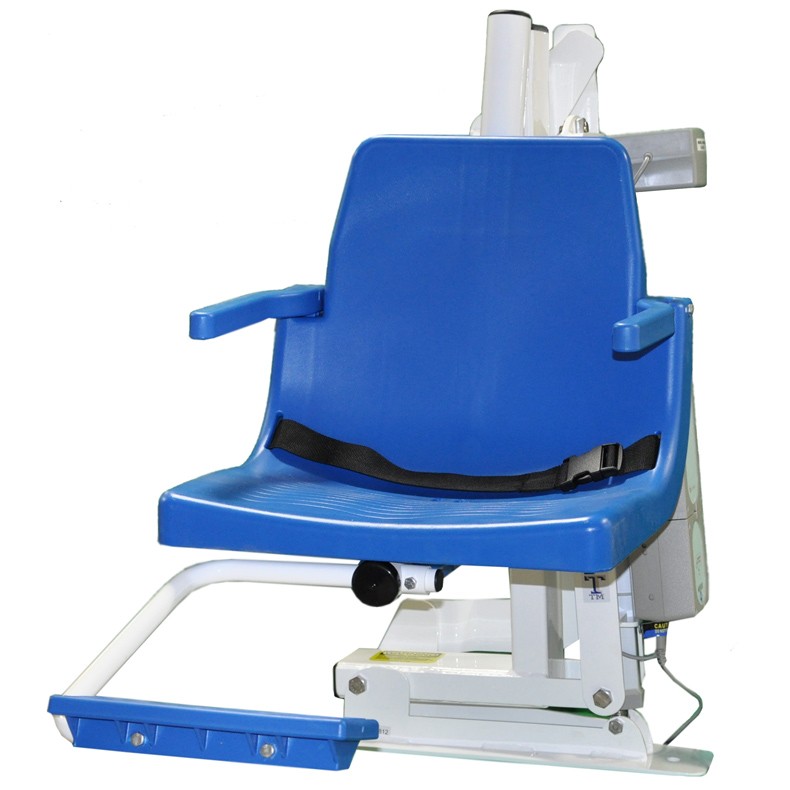 • Battery Powered 24 volt system
• User Friendly Controls
• 5 Year Structural Warranty
• Arm rests
• Foot Rest
• Safety Seat Belt
• UPS Packaging for easy shipping
• Fits most standard pool applications
• UV resistant
• Right Seat Application
• Includes Battery Charging Station
• Key Lock out System
• Optional Drop in or Four Point Anchoring System

Battery update for 2013:

The battery has been changed to the HIWIN battery, and incorporates a relay in place of a fuse. If the battery fuse is blown, it will no longer require a new battery.
The new relay battery will reset itself in about 10 minutes

Warranty

Global Lift Corp lifts have a Lifetime Limited Warranty on the metal components of the frame, not including the powder coating process. S-Series Lifts have a 5 year Structural Warranty. Global Lift Corp warrants to the original retail end user that products manufactured by Global Lift Corp, when installed properly in accordance to the assembly and installation instructions, and when properly used and maintained, will be free from material defects and workmanship as stated below:

Warranty starts from date of original purchase
Fill out the Product Registration Form
Metal structure (not including powder coat) – Lifetime Limited
Actuator and controls – 2 years from date of purchase
Battery – 1 year from date of purchase
This warranty does not cover if damages are due to accident, abuse, negligence, misuse, Exceed the weight capacity for model purchased, failure to install or to assemble the product in accordance with the installation and assembly instructions, normal wear and tear from day to day use, not maintained properly, if unit is altered or repaired without written approval of Global Lift Corp – All Warranties are Void.