Pride GoGo Sport 3 Wheel Scooter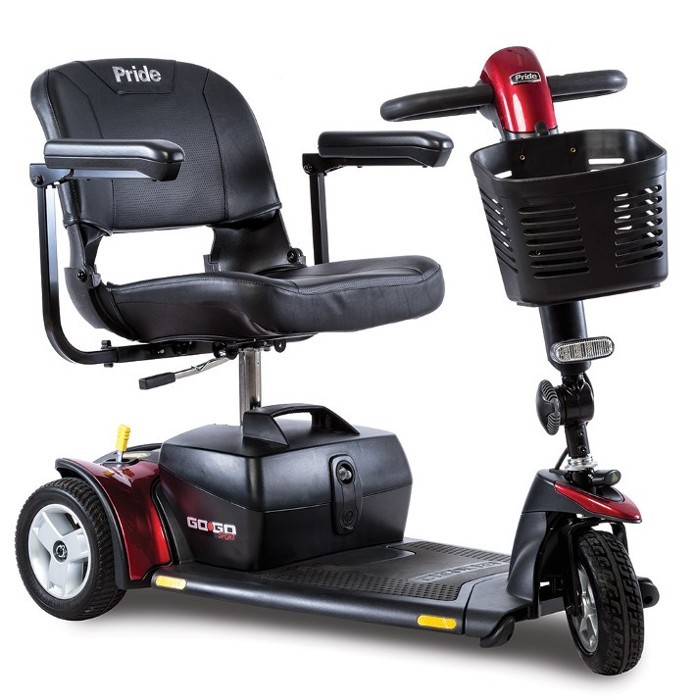 The longest of Pride's travel scooter line-up, the Go-Go Sport is sturdy and stable enough for outdoor riding. The overall length of the Go-Go Sport 4-wheel is 43", and the turning radius is 50.5". The charging port is conveniently located up on the tiller for easy access.

Large 18AH batteries are standard, allowing you to travel up to 12 miles per charge. The flat free tires are 3" wide for increased traction and safety.

You will love the Pride GoGo Sport durability and sporty styling. The delta tiller is easier to grip than straight-handled tillers, especially for one handed operation. The bright LED headlamp lighting your path after dark lets you see and be seen for added safety.
If you are seeking a sturdy scooter that's light enough for easy transport, look no further. The Go-Go Sport combines travel scooter take-apart convenience with the longer frame and roomier feel that so many riders are looking for.

Super features include powerful 18 AH batteries for a 12 mile max range and a 325 lb. weight capacity. Easy Feather-Touch disassembly lets you transport your scooter in 5 easy pieces- the heaviest piece weighs 52.5 lbs. and the components will fit in the back of most cars.

Features, performance, and travel ready.

The Go-Go®

Sport delivers high-performance and convenience on-the-go.

With a 325 lb. weight capacity, charger port in the tiller, and standard front LED lighting and a maximum speed up to 4.7 mph., the Go-Go Sport is feature rich and travel ready.

Delta tiller with wraparound handles
Includes 2 sets of shrouds - red and blue
Standard 18AH battery pack
Deck basket for additional storage
Key Specs

Top Speed: 4.70 mph
Drive Range: 12.00 miles
Heaviest Piece: 52.2 lbs.
Weight capacity: 325 lbs.
Weight: 127.2 lbs.
The all-new Travel Mobility under seat storage adds convenient storage while on-the-go. The compartments easily open and are accessible to place your phone, wallet, keys or glasses. Each side is capable of holding up to 5 lbs.
Features
Storage bins are black only
One size, capable of holding 5lbs. each
Removable for cleaning/storing purposes
Drain holes to prevent pooling of water/liquids
Under seat storage shown here on a Go-Go LX with CTS Suspension.
Under seat storage is available on many Go-Go models including the Go-Go Sport.
Feather-touch disassembly permits simple frame separation with only one hand.

Includes two sets of easily changeable colored panels in Red and Blue.
Front frame-mounted seat post offers maximum stability.

All-new frame design easily disassembles into five super lightweight pieces for transport and storage.

Deck basket for additional storage (Only Available On The 4-Wheel).

Convenient off-board dual voltage charger can charge battery pack on-board or off-board.

Charger port in tiller.
Model
Go-Go Sport, 3 wheel
Go-Go Sport, 4 wheel
Model Number
SC73
SC74
Front Tires
3" x 8" Solid
3" x 9" Solid
Rear Tires
3" x 9" Solid
3" x 9" Solid
Maximum Speed*
Up to 4.7 MPH
Up to 4.7 MPH
Ground Clearance
3" at frame, 1.5" at motor
3" at frame, 1.5" at motor
Turning Radius**
36"
50.5"
Overall Length**
42"
43"
Overall Width of Base**
21.25"
21.25"
Seat-to-Ground Height Range
20.5"-22"
20.5"-22"
Seat Type
Compact, Foldable (17"x17")
Compact, Foldable (17"x17")
Weight**
92.8 lbs.
99.2 lbs.
Seat-to-Deck Height Range
17"-18"
17"-18"
Battery Weight
14 lbs. each
(18 AH battery pack weighs 29.5 lbs.)
14 lbs. each
(18 AH battery pack weighs 29.5 lbs.)
Battery Requirements
(2)18AH
(2)18AH
Maximum Range Per Charge*
Up to 12.7 miles
Up to 12 miles
Battery Charger
Off-board, 2A
Off-board, 2A
Maximum Weight Capacity
325 lbs.
325 lbs.
Standard Body Colors
Red, Blue
Red, Blue
Weight of Heaviest Piece**
35 lbs. (Front section)
44 lbs. (Front section)
Medicare Code Coverage
K0801 - Group 1 Heavy Duty
K0801 - Group 1 Heavy Duty
Warranty
Lifetime limited on frame;
2-Year limited on Electronics;
2-Year limited on Drivetrain
Lifetime limited on frame;
2-Year limited on Electronics;
2-Year limited on Drivetrain
Information Sheet
More Info
Specifications
Specifications
Owners Manual
Manual
Video
Watch The GoGo Sport In Action
Meeting and Exceeding High Standards for your Peace of Mind.
Your Pride product has undergone thorough product testing to ensure safety, durability and performance.
Our power chairs, scooters and lift chairs are Food & Drug Administration (FDA) approved medical products that require specific testing prior to release for public use.
The testing requirements accepted by the FDA were developed by the American National Standards Institute/Rehabilitation Engineering & Assistive Technology Society of North America (ANSI/RESNA).
The tests are conducted in accordance with the requirements of the ANSI/RESNA Test Standards and complement an additional stringent testing regiment developed by Pride's Research & Development Team.
All products have passed, and in many cases, exceeded test criteria set forth, assuring the high level of quality synonymous with Pride.
Some of the items our testing criteria include are:
Product Stability & Brakes Effectiveness Tests
Fatigue & Impact Strength Verification Tests
Overall Product Performance Verification
Dimensional Requirement Compliance
Product Durability & Reliability Testing
Material Protective Coating Testing Verification
Misuse and Abuse Testing
Ergonomic Verification
Environmental Testing for Adverse Weather Operation Conditions
Electronic Systems Performance and Durability
Chemical and Bio-Contamination Analysis Testing for Toxicity Verification
Cal 117 Flammability Test Compliance for Seating Foam and Fabric Components
UL94VO Flammability Testing for Compliance of Plastic Components
Electromagnetic Compatibility (EMC)
One Full Year In Home Service Limited Warranty.

Your new scooter comes with a full One Year In Home Service Warranty. Stop worrying about who would repair your scooter or how you would get your scooter to them. This warranty has you covered! We will send a trained professional repair technician directly to your home in the event your scooter should need repair. We cover the entire United States. The map below indicates the location of our service affiliates.

Personalize your new scooter. Its Free & Easy, Simply select letter of font style below you like and enter it in the order form along with the name or text you would like to use to personalize your new scooter.

A

B

C
D
E
F
G
H
I
J



OPTIONAL SCOOTER COACH

The Patented Locking Scooter Coach is now available for the GoGo Sport 3 Wheel Scooter. The Scooter Coach is a water proof trailer that allows you ten times the capacity to bring things along with you that you would normally leave behind as ell as a piece of mind knowing your items are under lock and key. The Scooter Coach not only can serve a safe locking cargo, it can also serve as a ice cooler to keep food and drinks cold as it is completely water tight and water proof with a weight capacity of 500 pounds.

| | |
| --- | --- |
| | We include a Oxygen Tank Holder Free with the purchase of this scooter. This Oxygen Tank Holder will hold most any size tank. The chart shown on the left indicates with a red arrow all tank sizes this tank holder will accommodate. Also included free are all items listed below. |

| | |
| --- | --- |
| | |
| Candy Apple Red | Viper Blue |
Pride GoGo Sport 3 Wheel Scooter