Sitting too close to a Driver Side Airbag can not only be uncomfortable, but dangerous! Government experts recommend that a driver's face and chest be positioned at least 11-12" from the airbag. While disconnect devices are available, they compromise personal safety and still leave the driver uncomfortably close to the steering wheel.
Brake, Clutch and Gas Pedal Extensions provide a Safe, Simple and Inexpensive alternative for those who are short-stature, Pregnant, over weight, or people with back, hip or knee problems.
NOW YOU CAN DRIVE SAFELY AND CONFIDENTLY!
The gas extender is securely clamped to the gas pedal. There is no damage to the Original Equipment Manufacture (OEM) vehicle's pedal.
"Airbags are designed, as per government regulations, to protect an AVERAGE MALE (5'8" tall, 185 lbs.) not wearing a seat belt." www.safewithin.com/autosafe/auto.air.cgi

"Short adults are especially vulnerable to airbag injuries.......should be as far away as possible from the strike surface in the vehicle's interior"
www.e-z.net/~ts/airbags.htm
"If you're sitting closer than ten inches to your car's airbag, you should have an on-off switch installed. Alternatively, you can have pedal extenders installed on your vehicle." www.cartalk.com
The gas and brake Pedal Pals are low to the floor. The picture to below shows the Pedal Pal gas extender, which has an adjustable reach of two (2) to six (6) inches using an adjustable screw. The extender is ideal for someone who is 4'10 to 5' tall wearing a size six (6) shoe or a portly person or a woman who is pregnant.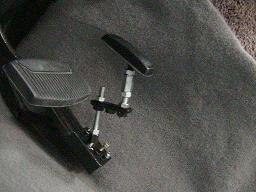 Often the vehicle's gas pedal has a pivot point where the pedal attaches to the lever. The Pedal-Pal was designed with a unique offset bracket overcoming the awkward tipping of the pedal problem that occurs with block type extensions.

Pedal-Pal's adjustable accelerator pedal clamp accommodates varying widths of pedals and securely tightens with a locking screw.